I started writing this message with the words 'I can't believe how quickly this year has gone', then I realised that I said almost the exact same thing at the beginning of last year's review. The fact that I said it last year – and probably will again next year – doesn't mean I feel it any less.
It seems like lockdown and the pandemic uncertainty was a lifetime ago but this year has presented new uncertainties to contend with. The war in Ukraine and the ups and downs of our economy at the top of the list – at least for me.
Of course, uncertainties and the effects they have on investments can be worrying for you too. I've been doing some reading around how we – as humans – manage uncertainty and building resilience so we aren't overwhelmed by events. I came across the saying 'History doesn't repeat itself, but it does rhyme'. Personally, this perspective helps me to see that uncertainty has always been a part of life but we've always come through it. There's always the other side, even if that looks a bit different.
The same thinking applies to investing. To illustrate this point, this diagram shows the effect of health and world events on the Vanguard Global Stock Index – a proxy for global equities. Once you've got past the sheer volume of events in the past 25 years, it's reassuring to see that short term dips are exactly that and being patient and holding your nerve does pay off.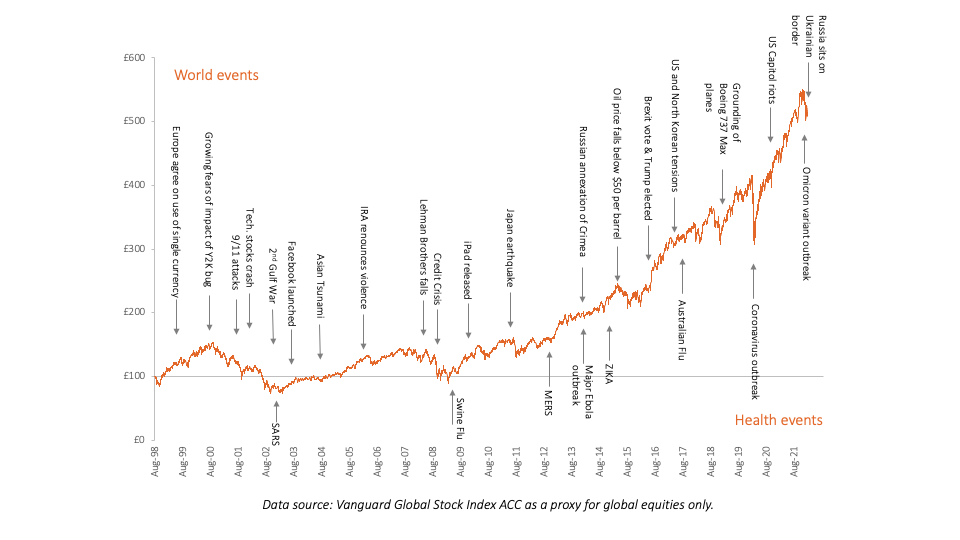 Clients who have worked with us for many years will be more comfortable with this idea but, for new clients, this period of uncertainty may make you particularly nervous. It can be uncomfortable to see temporary declines in the value of your investments – this is your hard earned money after all. It is a test of nerve but we're confident your investment portfolios are well positioned to withstand this period of uncertainty and resume their contribution to your long term plans. History – even if it rhymes rather than repeats – tells us that's the case. It just requires a little time and patience.
Looking on the bright side
Despite there being lots to worry about in the world, much of this is outside of my control and I often need to remind myself that there is still plenty to be grateful for. The two don't need to be mutually exclusive.
Thinking back to the lockdown, I'm embracing the ability to do the things we were prevented from doing. Celebrating birthdays and other life events, taking holidays, spending time with friends and family.
I'm not the only one doing this. Many of you know my Dad – Andy – but you might not be aware that he has a big birthday next year. I'm sure he won't mind me telling you that he turns sixty in 2023!
Anyway, true to form, he's really leaning into his 'live life on purpose' ethos to mark this occasion. Just after Christmas, he and Mum are off to Australia for a once in a lifetime trip for six weeks to start the celebrations. Hopefully, he continues to inspire by following the same advice he has been dispensing to clients for many years.
In conversations with you, I've noticed many of you are doing the same – celebrating birthdays, kids' weddings, holidays.
A lot to be grateful for
It sounds cheesy but work also gives me a lot to be grateful for.
Firstly, the work we get to do alongside our clients and how, through this, the opportunity we have to build relationships with you and the insight we get into your lives. This is a privilege that we do not take for granted.
Over the past year, you've placed your trust in us – I'm grateful for this. The last couple of years have seen a lot of change at Emery Little – this year has been more about bedding in those changes and I hope this has been your experience.
We've worked hard on the things you've told us that matter – like reducing the time it takes to send recommendations and action plans after your meeting and sharing more of the thinking behind our investment approach.
And we will continue this work. Progress is one of our values and it's something we always strive for. Where and how we progress has and will continue to be informed by the client survey you completed in the Summer.
Alfie and I will share these plans in the new year.
The Emery Little team also gives me good reason to be grateful. Seeing the progress they make as individuals and teams makes me excited for them to fulfill their potential; excited for them and excited for what this means for the service we can give to you.
On the topic of potential – and I apologise for the clumsy segue – we got to see plenty of the team's baking potential at our team day a week or so ago.
After a business and connection meeting, we had our very own Great British Bake Off. The team split off into pairs to complete the challenge of baking and decorating a three tier sponge cake. The theme? Christmas, of course!
The timekeeping was strict, and the judge even more so.
You can see some of the results below. Becca and Josh took the first prize with their reindeer cake.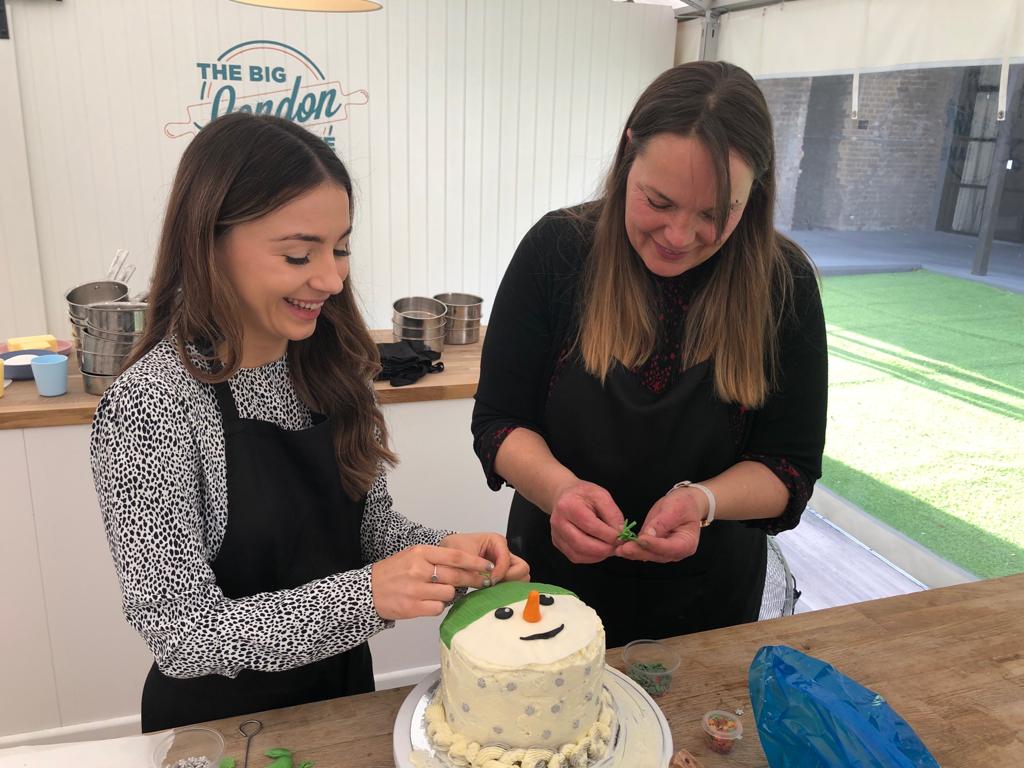 Wrapping it up with a bow!
Now I come to think of it, there's a lot to be grateful for. If I had an Emery Little highlights reel for this year it would include:
Seeing so many of the team celebrating Jen and Dan's wedding
Marcus and his wife Niamh welcoming their second baby, an adorable baby girl – Fiadh
My delayed honeymoon trip to Bali
Emery Little featured in FT Adviser's top 100 financial advisers for 2022
Being invited to speak at the Personal Finance Society's Festival of Financial Planning
Over the holidays, I intend to add more moments to my 2022 highlights reel, spending time with family and friends.
I hope you have a restful break over the festive period and, who knows, perhaps there'll be some moments to reflect on your own highlights reel.
Thank you for your support this year.