We have four values at Emery Little – trust, clarity, connection and progress.
We work hard to embed all four into our business and all our interactions.
Trust is top of the list for a good reason. It's our priority.
And from a survey we ran a few years back, we know it's what you value most from your relationship with Emery Little.
A professional panel debate I participated in a few months back, really got me thinking about trust and what it means.
One of the hot topics was consumer trust in financial advice. We discussed the emergence of developments like TikTok investment 'advice' and whether this can be trusted, especially when it's not regulated.
I came away convinced that while I may not be able to ensure every source of financial advice, planning and guidance out there is trustworthy, I can focus on what's in my control, and make sure we've given lots of consideration to what trust means for Emery Little, the service we provide and the relationships we have with you and within our teams.
So, we got together and using Charles Feltman's four components of trust – Reliability, Competence, Sincerity and Care – we set about writing down the practical steps and actions we take under each component.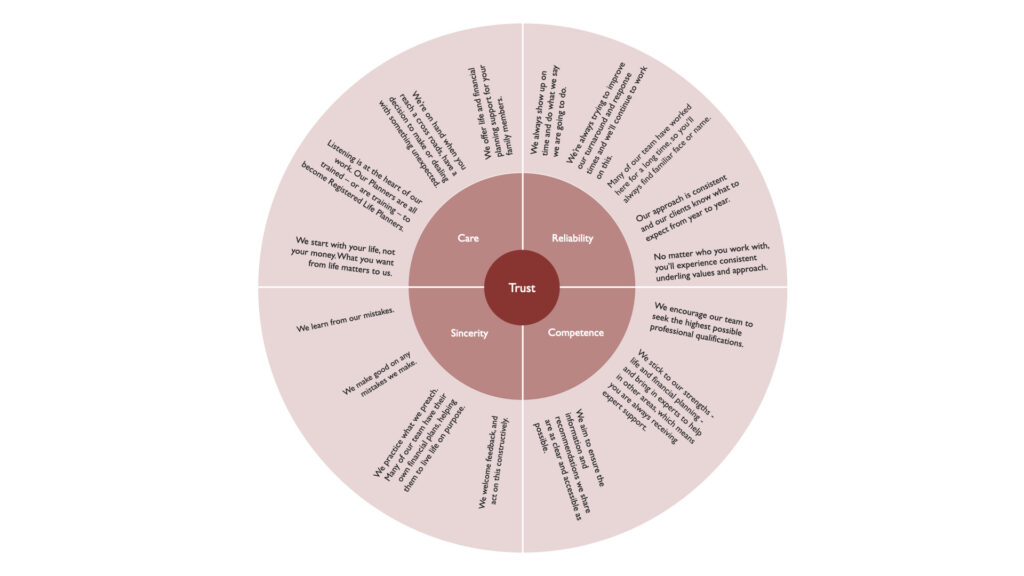 The diagram above summarises our thinking and shows that, while we already do lots to build trust, but we are a work in progress. I think we'll always be a work in progress (that's because another of our values is progress – not perfection) and will continually be on the lookout for new ways to safeguard trust. That's because it's a value we don't take for granted.
I'd love to hear about the difference trust makes to you, especially around your financial future. It's a constant work in progress for us and your feedback will help us develop.
I've pulled out some of the areas we're focussing on.
Reliability
The time we take to respond or turn around actions is a really important part of being reliable and we know this really matters in having a trustful relationship. This is an area the team are always looking for improvements in – whether that's simplifying our processes, or introducing some new technology to help us – this will always be on our list of improvements.
We believe that it's important you are familiar with your team at Emery Little and know that you can rely on them. We have an average employee tenure of 7 years so you're able to get to know your contacts well and build a relationship with them.
Competence
We believe in sticking to our strengths – life and financial planning. We work with specialist partners in the areas where we want to plugin greater expertise. This means we can build our competence in the areas we want to focus on but know we can call on other experts when a client's financial plan calls for it.
Sincerity
We believe in making good on any mistakes we make. When we make a mistake we are open about it and we make sure our clients aren't disadvantaged. We also learn from it.
We're lucky to have clients who are happy to share their feedback. I like to think this is because they have faith in our openness to receive and act on feedback.
Care
I hope that it's evident in the discussions you have with your Financial Planner and the rest of the team, that we care about you. We care about helping you achieve your goals. It can be hard to talk about money and finances and we know that. So we approach all our conversations without any judgement – after all, many of us have had similar conversations for our own financial plans and have an appreciation of how vulnerable it can make you feel.
Progress over perfection
We'll keep on making progress on trust, and our other values – looking for opportunities to improve our services and processes.
What does trust mean to you and how would you define it?